Today's interview is with Bernadette Jiwa, two time author of #1 Amazon Bestsellers, who agreed to talk to me about her new book (already a #1 Amazon Bestseller): The Fortune Cookie Principle: The 20 keys to a great brand story and why your business needs one.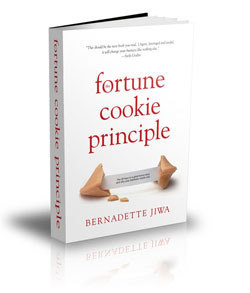 This interview follows on from my recent interview: Employee engagement and what it takes to be the best – Interview with Ryan Cheyne of Pets at Home – and is number sixty-seven in the series of interviews with authors and business leaders that are doing great things and helping businesses innovate, become more social and deliver better service.
Here's the highlights from the interview I did with Bernadette:
Bernadette has just published a new book (already a #1 Amazon Bestseller): The Fortune Cookie Principle: The 20 keys to a great brand story and why your business needs one.
Businesses are having trouble attracting and keeping attention of their customers these days. The best companies are those that have a brand story that has meaning in the minds of their customers.
Every product or service has two elements to it: The cookie (the commodity part of it) and the fortune (the meaning that we attach to it).
Bernadette delivered a TEDX talk about this. You can view it below.
People don't buy things, they buy how it makes them feel.
The fortune inside the cookie makes a bad tasting cookie matter.
Theodore Levitt: " People don't buy 1/4 inch drills, they buy 1/4 inch holes".
The 20 keys are a framework and starting point for all sizes of businesses to consider how to generate their brand story.
Bernadette believes that we, as consumers, have changed and we are not willing to be talked at any more and they want to choose who they engage with.
One of the mistakes that businesses make is that they use the internet and social media as another channel to broadcast messages.
What Bernadette is advocating is a back to basics principle where we learn from the businesses of the past and how they cared about and were involved with the lives of their customers.
It's businesses like these that offer great lessons for us going forward.
They knew what business they were in. They had a bigger reason to exist than just selling product.
Mass marketing, media and advertising made us lazy.
Bernadette includes examples of all sorts of businesses in the book that embrace this type of approach. One example she cited in the interview was Lego and how they turned their business around a couple of years ago by figuring out their 'purpose'.
Another (UK) example she cited was Jimmy's Iced Coffee, which is doing a great job of storytelling and standing out in what is a commodity category in the supermarket aisle.
Successful businesses make their purpose about their customers. They make them the 'heroes' of their story.
To start building your brand story, you have to start with figuring out what business are you in?
You could have multiple answers to that question depending on what you do and the customers you serve.
However, the book is ordered to help you progress once you have figured this out.
Steve Jobs: Marketing is all about values.
One of the mistakes we make in business is assuming that our job is to change how people feel about our product or service. However, in actual fact, our job is to change how people feel about themselves when they are close to our product or when they buy our product.
The best businesses in the world become part of their customers story.
Your brand is a product or a service with meaning attached to it.
Standing in your customers shoes is under-rated.
Begin with the end in mind. But not your end, not profits and sales. But, rather your customers end. How do they feel and how do you want to make them feel?
About Bernadette (adapted from the bio on her website)
Bernadette is a freelance brand story strategist and the author of #1 Amazon Bestsellers The Fortune Cookie Principle and Make Your Idea Matter. Her blog, The Story of Telling, was voted Best Australian Business Blog 2012. She created the marketing model The Fortune Cookie Principle™ and spoke about this and the secret to spreading ideas at TEDxPerth.
She's also been named as one of The Top 100 Branding Experts To Follow On Twitter .
She's also worked with "the world's greatest marketer" and bestselling author Seth Godin on the 'Big Book' that was one of the rewards in Seth's Kickstarter campaign.
Bernadette consults with companies, entrepreneurs and business leaders from around the world to build their brands and business visions. She's created brand names, communication strategies and brand stories to launch and evolve amazing, bold ideas; from a medical journal to a movement, businesses to blogs, books to Kickstarter projects, non-profits and more.
Bernadette grew up in Ireland, the storytelling capital of the world, where storytellers are revered and given the title seanchaí. Now she lives in one of the world's most isolated cities (and best-kept secrets) Perth, Australia, surrounded by men (three boys, one good man).
You should check out here new book: The Fortune Cookie Principle: The 20 keys to a great brand story and why your business needs one, check out her blog: The Story of Telling and say Hi! on Twitter @bernadettejiwa.